My brand new, in the box, ten dollar Vera Wang Wedges came in the mail today. I actually wasn't really expecting all that much for ten bucks but as soon as I opened the box an overwhelming excitement came over me. I'm pretty sure these are my new favorite shoes. (I say that every week, I know) After trying them on and realizing they are more than perfection I began to squeal "I LOVE MY WANGS". I think my shoe obsession has gone beyond obsession at this point and has turned into love.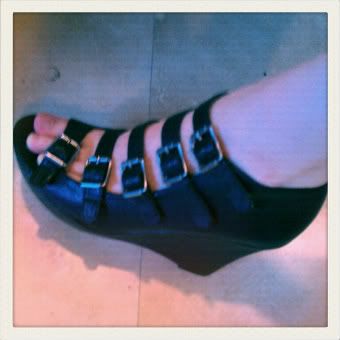 Remember these babys that I posted earlier on my summer wishlist post?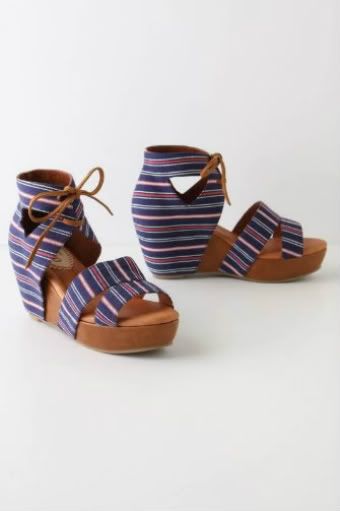 Well, they're my babys now! After seeing them go on sale on the Anthropologie website, I zoomed to my nearby store and scooped them up. Fashion bloggers have been ranting and raving about 80%20's brand and how amazing they are and they did not let me down. It should be illegal for a shoe to be this comfortable! The sole has a 1/4 inch thick of leather cushioning that just molds your foot. I could wear these all day! And I plan on doing that exact thing :)
Before I leave with my outfit of the day, I'd like to share with you one of my favorite things about summer. In Pasadena where I grew up there is a little tiny place that sells "raspas" in English I guess this would be snowcones. They sell a sort of mango smoothie that has lemon and powdered chile. It makes your taste buds drool. They also sell "elotes" which in English would be corn. But this is no ordinary corn, it has cheese, mayonaise and mexican powdered chile all throughout it. It is the most delicious thing in the world. These two things together are the perfect summer snack and I drive almost 30 minutes just to get it. It also reminds me of my childhood since I basically grew up on these. See for yourself!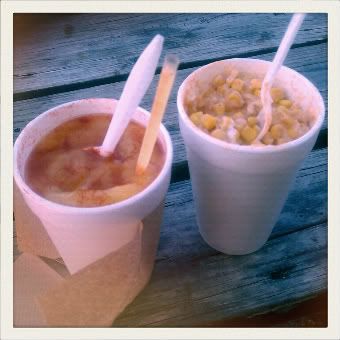 Outfit of the day! Hope everyone is having a wonderful Monday :)